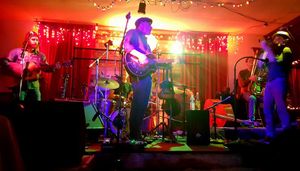 Bio
John Kraus And The Goers are:
John Kraus: Lead Vocals, Guitar, Bouzouki, Ukulele
David Dutton: Drums, Percussion, Vocals
Bob Aul: Tuba
Tim Weed: Fiddle, Vocals
Paul Givant: Guitar, Banjo, Percussion, Vocals
John Kraus did not have headphones as a teenager. His brother's ridiculously large stereo speakers turned inward at a distance barely exceeding the width of John Andrew Kraus' head would have to do. For Nick Cave and the Bad Seeds were best understood this way. 
John Kraus did not play jazz or classical music like his four siblings. Singing with a reed instrument in your mouth was just not practical. A loud electric guitar would have to do. 
John sang harmonies with his dad in the car; secretly enjoying the lush vocal harmonies of the Gatlin Brothers, the Irish Rovers and the rest of dad's washed up, old-persons music. How could John Kraus like Nick Cave and Larry Gatlin? The struggle would torment him for years. 
So, when the other siblings went on to earn advanced degrees in music, John went to sea -- on Tall Ships. That is to say, working on large wooden vessels with multiple masts, doing the work of sailors. 
And it was there that he stayed for ten years, learning the ropes and lots and lots of sea shanties. It's actually just part of the job. 
Kraus eventually became Captain. Armed with a 100-ton masters ticket, he was now poised for a long and fruitful career in seafaring. What a perfect time to quit the job and pick up a banjo. He tore himself from the sea and hit the road for a year of playing banjo with L.A.'s bluegrass-punk darlings, Rose's Pawn Shop.

It was on the corner of St. Anne and Bourbon Street in New Orleans while on tour with said punk-grassers when destiny became clear. To marry his two passions in life: music and sailing. This unlikely matrimony leaves one obvious and narrow genre: Sea Shanties. Often offensive songs sung by degenerate sailors created beyond the ears of any civilized company. Upon determined research, a home recording studio, a pair of headphones (finally), "Donkey Off a Dead Horse" was born. 
"You know what this music needs", queried long-time collaborator and friend, David Dutton? "Wild percussion and drums. Not just any drumming. My drumming! Oh, and Fiddle and tuba. Can you bring some beer over?" 
So Fullerton-hot jazz legend and Brother-in-law, Bob Aul got on board along with Dutton, as did violin maestro Tim Weed, and Rose's Pawn Shop front man Paul Givant asked John if he'd let him stand off to the side and sing harmonies and strum some guitar and banjo, John obliged, and thus rounded out the most unique and daring folk ensemble ever to sail the seas. 
Taking a pointed stance against traditionally performed "trad" music, John Kraus and the Goers soon recorded the follow-up record, "Derelict" which began as a nod to Homers' Odyssey with several original songs, a collection of some of the finest songs of the sea from the past 2 centuries, and some from contemporaries and decades not long past. "Derelict" modernizes a selection of sea shanties into one relevant and urgent-sounding CD, seamlessly blends the originals, and leaves mockers of trad music singing, and trad music lovers scratching their heads and checking their rule books.